Do you have experience and a passion for working with children? Do you enjoy being a part of a team?
Your BRIGHT FUTURE begins HERE too, at St. Paul's Early Learning Center! Come join our team!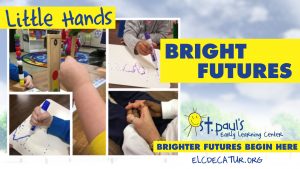 We are NOW HIRING at St. Paul's ELC for a Part-Time Teacher Assistant. We house daycare, preschool, and school-age programs for children ages 6 weeks to 12 years old. We are set apart – we understand the great responsibility of the care and development of young children and their families, and we carry out this important work each day grounded by the love of Christ.
This person in this position would start out working with some of our littlest friends, assisting with coverage and care in our Infant Room, Waddler Room, and Twos Room, while assisting with breaks for fellow team members in other classrooms as needed (please note the schedule specified below). Starting pay for this position is $9.00/hour. This part-time position could lead to a full-time position over time. The ideal candidate must be teacher qualified (per DCFS requirements – see below), enjoy working in a team environment, and demonstrate skill and excitement for working with young children.
Ready to Apply?
Interested applicants should contact Kim Newingham or Jamie Stanzione in the St. Paul's ELC office at 217-424-9183 or daycare@spldecatur.org for more information and to request an application for employment.

Desired Hours of Coverage for This Position:
Monday
2:30-5:45pm Infant Room
Tuesday/Wednesday/Thursday
7:15-8:15am Infant/Waddler Room (These classrooms are connected.)
8:15-11:00am All Rooms, Covering 10-Minute Breaks for Fellow Teachers
11:00-11:30am Twos Room
11:30am-2:30pm Break for you (or as needed, assist others as a Floater/Sub)
2:30-5:45pm Infant Room
Friday
2:30-5:45pm Infant Room
More hours could be available if candidate is also willing to be considered as an On-Call Sub. (Please indicate your interest in this when applying for the position.)
What Does "Teacher Qualified" Mean?
This means the individual has completed:
– 60 College Credits, with 6 hours in courses related directly to Child Care and/or Child Development
-OR-
– One Year (1560 clock hours) of Child Development experience in a licensed day care center, AND 30 College Credits, with 6 hours in courses related directly to Child Care and/or Child Development.