UPDATE: Reopening Our Facility
We are excited to welcome you and your family back to St. Paul's Early Learning Center beginning on June 8th! Recently we sent out a communication to our parents and families that includes the following information.
As we reopen, we are putting the health of our families and staff as top priority. We are adding the following updates to our procedures in order to minimize exposure to illness and meet updated changes to the DCFS licensing regulations. A digital copy of these guidelines is available for you HERE.
HOURS/PROGRAM CHANGE
Our Hours of Operation will be 7:30 AM – 4:30 PM (Monday – Friday) until further notice. We are only able to have full-time spots available (No drop-in or 3 day per week care for School-Age students; All other active classrooms are already full-time only).
DROP-OFF PROCEDURE
When you bring your child(ren) to St. Paul's Early Learning Center in the morning, you and your child(ren) will be met at the outside door (main ELC entrance with awning) by ELC staff. You and your child (age 2 and older) must wear a mask during drop-off and pick-up times. Physical contact between you and ELC staff is not permitted (as much as we would like to hug you).  Please respect social distancing (6 feet apart) while waiting your turn.
You must answer a few screening questions (listed here) and have your and your child's temperature taken before you leave. If any of the screening answers are yes, your child cannot attend.
Has any member of your household come into contact with anyone who has COVID-19 or symptoms?
Has any member of your household had a fever of 100.4 or above in the last 72 hours?
Has any member of your household had any of the following symptoms in the last 72 hours: dry cough, sore throat, shortness of breath, body aches, headache, loss of taste or smell?
Staff will record answers and temperatures on a documentation log. This will be used to check your child into Procare, our attendance system. ELC staff will escort your child to the classroom and ensure hands are washed.
Please limit to one parent/guardian per family, preferably the same one daily; if possible, we ask that no individual in a high-risk group drop-off or pick-up, to reduce their exposure.
PICK-UP PROCEDURE
Please call the ELC office (217-424-9183) when you are parked in our lot so we can bring your child(ren) to the door (main ELC entrance with awning) for pick-up. As a reminder, you and your child(ren) (age 2 and older) must wear a mask during drop-off and pick-up times. Physical contact between you and ELC staff is not permitted.
UPDATED ILLNESS POLICY
Please contact us if your child will be absent for any reason, as we are tracking illnesses and symptoms.
If your child or anyone in the household has a fever, your child will not be able to attend until 72 hours after the fever is gone without fever reducing medication.
If anyone in the household has been in close contact to someone with a confirmed case of COVID-19, or has symptoms of or been diagnosed with COVID-19, your child will not be allowed to attend until written documentation is provided by the child's physician that your child is not communicable and is able to return to the ELC. The ELC staff may allow a child to attend if medical clearance is provided by a physician that indicates the symptoms are associated with a non-COVID-19 illness. Per DCFS, we are required to report COVID-19 exposure to the Macon County Health Department, DCFS, and the CDC.
If your child feels ill during the day, we will check for fever again. Per normal procedure, we will contact you if your child is sick and will keep your child isolated and comfortable until someone arrives, within 30 minutes if possible.
OUTSIDE TOYS/BACKPACKS/BLANKETS
Please do not send in any outside toys or backpacks with your child; diaper bags are permissible if needed.  Cot and crib sheets and blankets will be washed daily at the ELC. If your child has a blanket at the ELC already, it has been washed. If you have your child's blanket at home, please send one in that can stay at the ELC (please mark items with your name).
FACE MASKS/SHOES FOR CHILDREN
We have ordered reusable cloth masks for children aged 2 years and older; until they arrive, please send in a labeled mask for your child to wear "as tolerable." We will encourage your child to wear it, but it will NOT be forced on children. When not in use (naptime, mealtimes, outside, when it becomes "intolerable"), the mask will be stored in a paper bag in the classroom labeled with your child's name.
Additionally, we encourage you to send in a pair of sneakers to be worn only at the ELC (please label with name). Your child will wear these from arrival to departure; the shoes will be stored in their assigned cubby.
FACEMASKS/SHIELDS FOR STAFF
All ELC staff are required to wear face masks or shields while in the building. These will be sanitized daily. Our desire is for your children to see our smiling faces while still encouraging healthy practices.
SANITIZING PRACTICES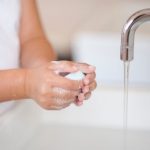 We will level-up our cleaning and sanitizing practices as well. Proper handwashing procedures will be followed by students and staff.  Common areas will be sanitized between uses by groups and the sharing of materials will be minimized. High-touch surfaces will be sanitized hourly; used toys, a minimum of three times per day. Mouthed toys will be removed immediately for cleaning and sanitization.
CLASSES & STAFFING
Classes will not share space or be combined at any time. Teachers will remain with their designated classes all day; they are only to enter their designated classroom. All classes will eat meals/snacks in their classrooms.
VISITOR POLICY & EVENTS
Non-essential visitors will be limited. All essential visitors (HVAC, delivery, etc.) who enter the building will be asked medical screening questions, checked for fever, documented, and required to wear a mask.  We will not have field trips or family events until further notice.  We are working on an alternate graduation plan for our spring preschool graduates.
PAYMENT OPTIONS
You are welcome to send in your tuition check with your child at Drop-Off; Tuition Express, our payment portal, is available for automatic or online payments. Contact the ELC office during regular business hours for information or to pay by phone (217-424-9183).
We have included links to the related documents for you:
Reopening Information & Guidelines
Reopening Information & Guidelines Parent Signature page
If you have questions, please contact Kim Newingham, Director, St. Paul's Early Learning Center, kim@spldecatur.org, 217-424-9183.