Are you ready to jumpstart your child's BRIGHT FUTURE?
Now is the time to enroll your three or four year old for PRESCHOOL at St. Paul's Early Learning Center!
We offer Preschool education for Three and Four Year Old children – Classes begin the week of August 27th and meet through May.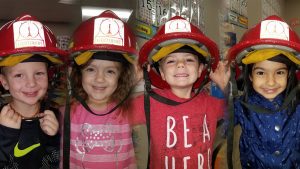 FOUR YEARS meet Monday thru Friday, 8:30-11:30am
THREE YEARS meet Tuesday, Wednesday, and Thursday, 8:30-11:30am
As a part of each day, your child will engage in and experience activities to address the five key developmental areas (Cognitive, Spiritual, Physical, Social, Emotional), with additional focus on kindergarten readiness.
ADMISSION & ENROLLMENT
– For preschool, a $30.00 registration fee plus the first month's tuition is required. Tuition is based on the age
of the child(ren). State subsidy accepted.
– Enrollment is on a first come, first serve basis to all children who meet the age requirements.
– St. Paul's Early Learning Center does not discriminate on the basis of race, color, or national origin in the administration of its admission policies, educational policies, scholarship & loan programs, and athletic and other school
administered programs.
For more information about the ELC Preschool Program, click HERE to view the 2018 rates and fees.
ABOUT THE ELC
St. Paul's Early Learning Center is located on the campus of St. Paul's Lutheran Church, located at 1 Bachrach Court in Decatur, Illinois. With secured classroom spaces and indoor play areas filled with natural light, an outdoor play area, nature areas to explore, dedicated dining space, and abundant restroom facilities throughout – all complimented by a loving, dedicated team of quality teachers and staff – a brighter future is just ahead for you and your child at St. Paul's Early Learning Center.
REGISTER NOW
To inquire, schedule a tour, or to register, contact the ELC at 217-424-9183.
Have older, school-age children? Ask about our Before and After School Programs and Days Off Club!