This week we focus on Lindsay Basil, school-age teacher. Lindsay likes encouraging her students' creativity with crafts and music. She enjoys how their eyes light up when she brings in different musical instruments. Give a friendly and creative hello the next time you...
read more
What Parents and Teachers Say
"I have been beyond blessed to have my kids in such a loving environment for the past 4 years. I can't say enough good things about our experience and the amazing staff. Thank you to everyone at the Center who has loved my kids as their own and taught them so much through the years. We love you."

Parent Testimonial, 8/30/17 shared on the ELC Parent's Corner group page
Stephanie Helphrey
Read more
Hear from other ELC parents and families: "I have been beyond blessed…"
read more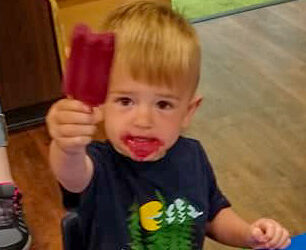 Look at these kids – they've got Popsicle Face! That telltale ring on the lips and around the mouth that you can see from 20 yards away. [Okay, technically they are frozen fruit bars, but Frozen Fruit Bar Face is a little long.] These kids have no self-consciousness...
read more
The ELC BOOK FAIR is back and better than ever! Wouldn't you like to share fun stories and unforgettable characters together with your child? Do you want to brighten the lives of your grandchildren, favorite nieces, nephews and more? This time it couldn't be easier to...
read more
Christmas Blessings to all! We are thankful for the continued support of the ELC ministry. The parents and children are such a blessing to us. The safety of children is extremely important to us. We continue to have precautions in place to lessen the possible...
read more